3 COCKTAILS TO KICK OFF YOUR SUMMER FUN!
Posted on: Friday, June 6th, 2015
With the Summer festivities right around the corner, we decided to kick things off the right way. We've dug through our Summer Signature Cocktail Selection and narrowed down three of our top crowd-pleasers! Tell a friend to tell a friend, or just invite them both over and share a fresh round of drinks together!
The Strawberry Yellow Bird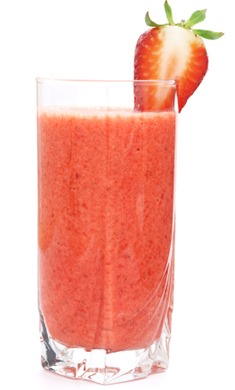 1 Cup Lime Juice
38 oz. Galliano
38 oz. Gold or Dark Rum
1 pint Orange Juice
1 pint Pineapple Juice
2 Quarts Strawberries
3 whole Bananas
In a large Punch Bowl add 1 ½ quarts of Strawberries. Crush the Berries and Banana with a potato masher. Add Lime, Pineapple and Orange Juice. Stir. Add the Rum and Galliano. Garnish with a fresh Strawberry.
Tequila and Thai Basil Mojito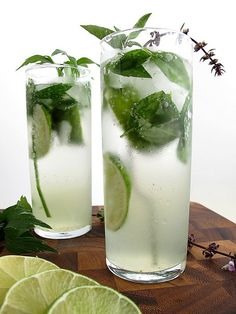 1 1/3 cup fresh Lime Juice
1 cup white Cane Sugar
¾ cup Brown Sugar
1 ¾ cup water
2 large bunches fresh Thai Basil
(Reserve 2 stems for garnish)
3 limes slice into wedges
5 1/4 cup Blanco or Reposado Tequila
5 cups Club Soda
Place water and both sugars in a sauce pan and heat till sugar is dissolved.
In a large punch bowl place washed Thai basil leaves and crush with a muddler. Add sugar water and lime juice. Stir. Add the tequila. Pour mix into glasses over lots of ice and then top with Club Soda. Garnish with a lime wedge and a basil leaf.
Strawberry & Peach Sangria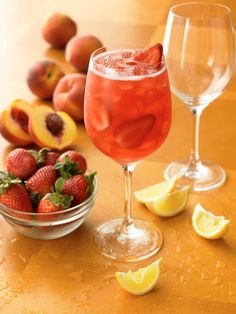 1 750-ml bottle dry White Wine
1 1/2 cups Essensia (orange Muscat, a sweet Dessert Wine)
1 1/2 cups sliced strawberries
1 cup Peach Liqueur
3 Peaches, sliced
1 large Orange, sliced
1 large Lemon, sliced
1/4 cup Strawberry Syrup
3 to 4 cups ice cubes
Mix White Wine, Essensia, Strawberries, Peach Liqueur, Peaches, Orange slices, Lemon slices, and Strawberry Syrup in large pitcher, smashing citrus slices slightly. Let stand at room temperature at least 2 hours or chill up to 4 hours. Serve Sangria over ice.