A. Bright Idea Holiday Party Catering Menu
Posted on: Friday, July 7th, 2018
On Saturday, December 16, 2018, A. Bright Idea hosted their 21st anniversary and holiday party. The party's theme was one of a 1920's Speakeasy. Read below to discover more about the event and its unique catering menu.
The event's theme was initially unveiled through their unique invitations. The invites included a hidden entry password that was only visible when the top layer was scratched off.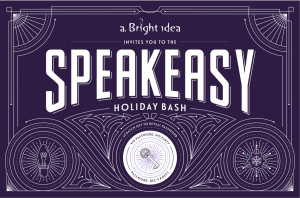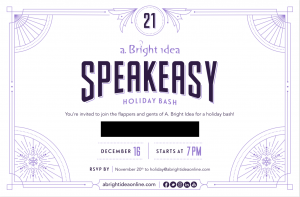 Upon arriving at the event, guests were greeted by a Zoot Suit clad door attendant where they were then required to present the secret password – "Bees Knees". Once guests gained access to the event, they were welcomed with themed specialty cocktails served by "Cigarette Girls".
It was very important for us to draw inspiration from the era for which the theme was inspired. To do this, we had to combine our research along with the creative culinary mind of our President and Corporate Chef, Jerry Edwards, CPCE to put together the catering menu.
Signature cocktails included Bathtub Gin Spritzer, fresh squeezed lemon juice married perfectly with Tanqueray Gin and Simple Syrup chilled and poured over Lavender Scented Purple Ice Spheres, and Champagne, bubbles served in old fashioned champagne "coupes."
Hors d'oeuvres were then butler passed in waves in order to provide ample variety for the guests.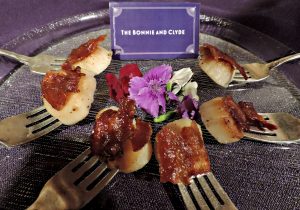 The Bonnie & Clyde – Scallops on a fork with Miso Bacon Shards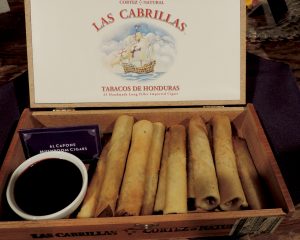 Al Capone Mushroom Cigars – Crispy Cigar-shaped Spring Rolls filled with Shiitake Mushrooms and served with a Raspberry Hoisin Dipping Sauce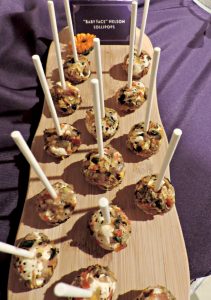 "Baby Face" Nelson Lollipops – Roasted Vegetable Mirepoix combined with Cream Cheese and formed into a Lollipop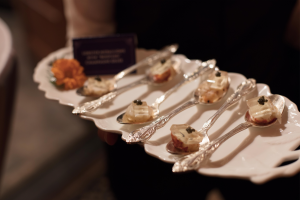 Lobster Medallions with "Bootleg" Champagne Gelee – Silver Spoons filled with Medallions of Poached Lobster topped with a dollop of American Sturgeon Caviar covered by a diamond cut window of Jellied Champagne
Three chef attended food stations were available & opened after the first wave of hors d'oeuvres was passed. Stations included:
The Prohibition Post – Roasted Asparagus Salad with Red Onion & Citrus Vinaigrette, Grilled Espresso Rubbed Black Angus Loin carved to order, & Truffled Parmesan topped homemade Gnocchi served from an aged copper paella pan
The Glad Rags Station – Handmade Paparadelle Pasta rolled into "Roses" surrounded with Roasted Root Vegetables & served with guests' choice of Alfredo or Bolognese Sauce
The Volstad Act Raw Bar – Shucker attended Raw Bar including Jumbo Shrimp, Raw Oysters, Crab Claws and served with Classic Cocktail Sauce, Smokey Hooch Sauce, Creole Mustard Cream Sauce, & Lemons
Dessert finally was served in the dining room of the client's home so that guests did not miss it upon departure. Coffee was served from silver samovars with gold banded ivory cups & saucers. Miniature dessert array included:
White Chocolate Passion Fruit Cordials
Chocolate Marshmallow Landslide Shooters
Whoopie Pies – a nod to the era
Cheese Cake Lollipops Dipped in Chocolate
1920's inspired cuisine, design and entertainment elements all contributed to the ambiance of the evening. The room was filled with the sounds of big band and jazz music that had the guests doing the Charleston all night long!
The event also included a philanthropic element. In lieu of bringing a traditional holiday gift, guests were instead asked to contribute donations to the Northern California Wildfire relief efforts. This cause is near and dear to A. Bright Idea's heart, due to the fact that their sister office is also located in Northern California. All in all this holiday party was a great success.