FEATURED EVENT: ASHLEY & PHIL'S WEDDING AT HISTORIC LONDON TOWN & GARDENS
Posted on: Friday, July 7th, 2014
Event Design Consultant, Jennifer Barbier recently had the opportunity to work with Ashley & Phil, who celebrated their special day at the Historic London Town and Gardens. After their wedding, the newly weds took the time to share their experience with us.
CHEF'S EXPRESSIONS WITH ASHLEY & PHIL:
How did you two first meet?
We have been dating for 9 years (our 9 year anniversary was exactly one month before the wedding). We met back in high school. He was a senior and I was a junior. We had weight lifting class together in the Fall. He played football and was really into the class, but me…not so much! I was more into messing around with my girlfriends and trying to flirt with him. At that time, he didn't want anything to do with me! In the spring, when football and weight lifting class were over, he finally started to notice me. I would walk down the hallway and he would wait to go into his math class with a friend of his (who is actually in the wedding!). I started to go to his baseball games and, even though we weren't each other's dates, we spent our proms together. The rest is history!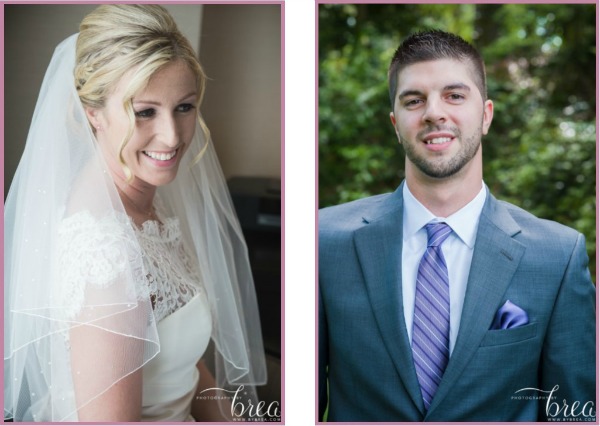 What was your most memorable wedding day moment?
My most memorable moment was my walk down the aisle. We chose to play "I'm yours" by Jason Mraz. The walk was just long enough so that when I finally locked eyes with him, the chorus began and all I could hear was "I'm yours."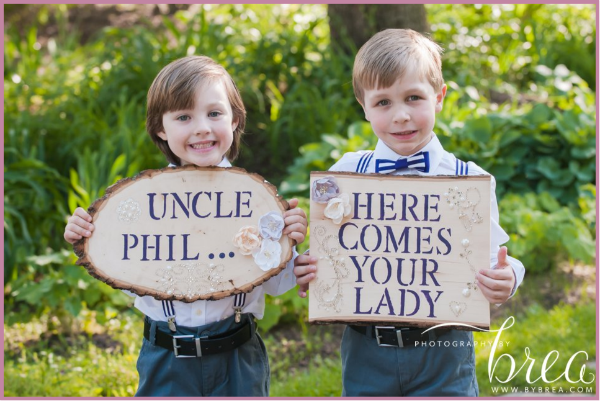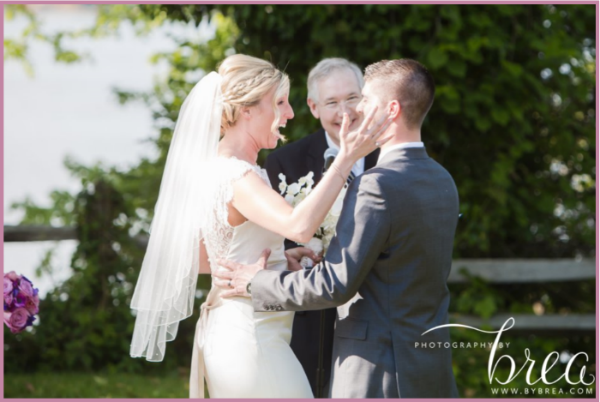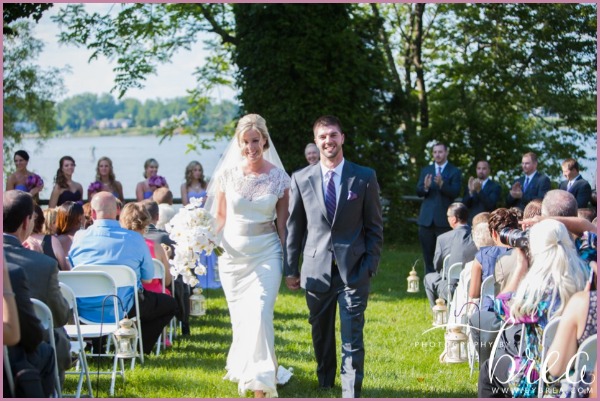 How did you hear about Chef's Expressions?
We heard about Chef's Expressions through our venue, Historic London Town Gardens. When I met our Event Design Consultant, Jen Pellegrino, I knew that I wouldn't want to work with anyone else. She's been fantastic!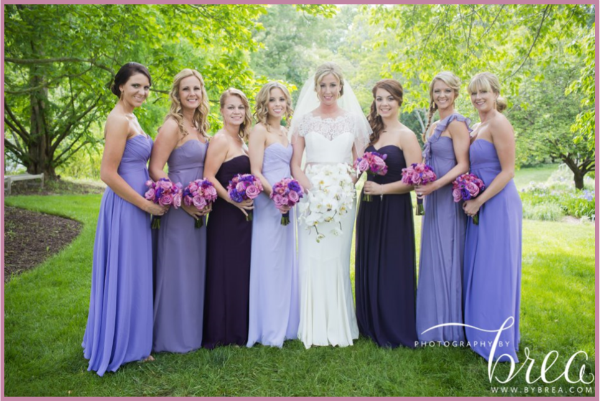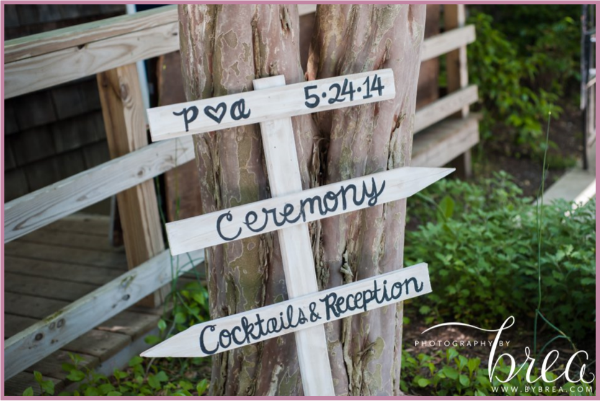 What was your favorite item on the menu?
My Husband would say that his favorite item was the Honey Pepper Shrimp wrapped in Fruitwood Smoked Bacon. Many of our guests, as well as myself, loved the Panko & Herb Encrusted Turbot!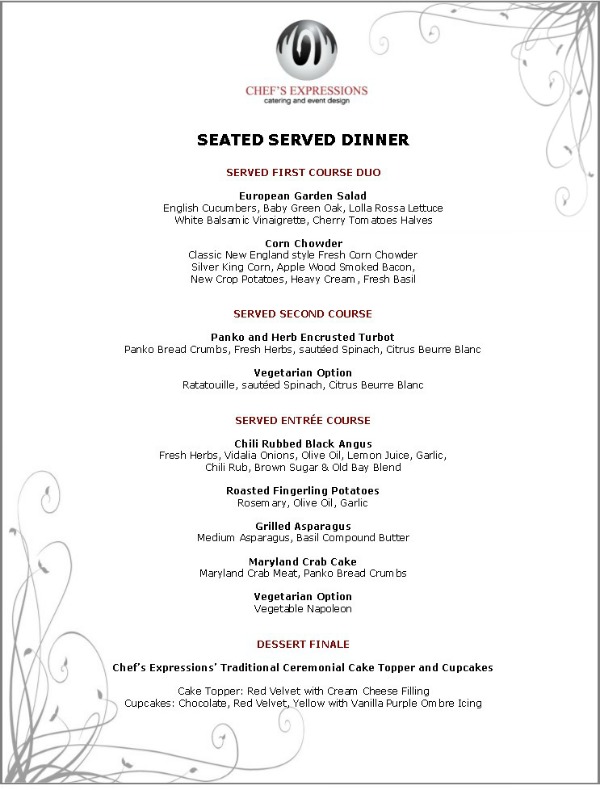 See the full menu here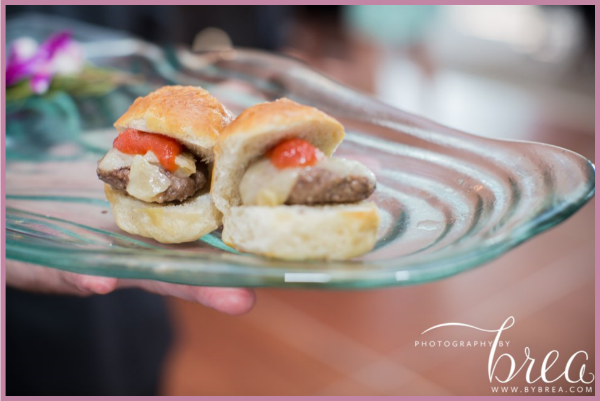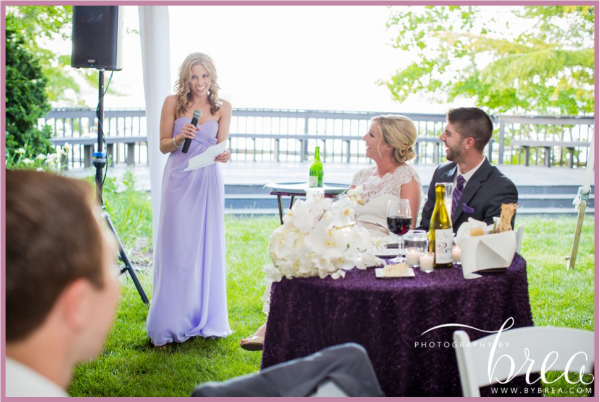 What was the theme of your event?
The theme for the evening was classic elegance. The colors we chose were Plum and Gold. My bouquet and the centerpieces were filled with beautiful Orchids and my dress was a simple, lace gown.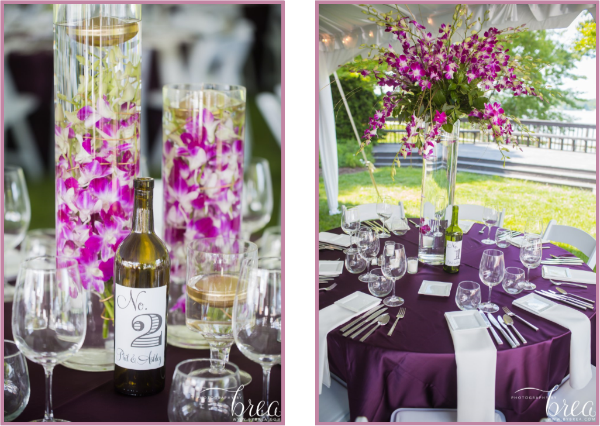 Did the Chef's Expressions team reach your expectations?
They extended my expectations by far. Jen Barbier and the Chef's Expressions team are the reason why the night ran so smooth and perfectly. It was flawless! I hugged and thanked Jen at least 20 times throughout the night because I knew I owed our perfect evening to them. I couldn't have dreamed up a better, more magical wedding.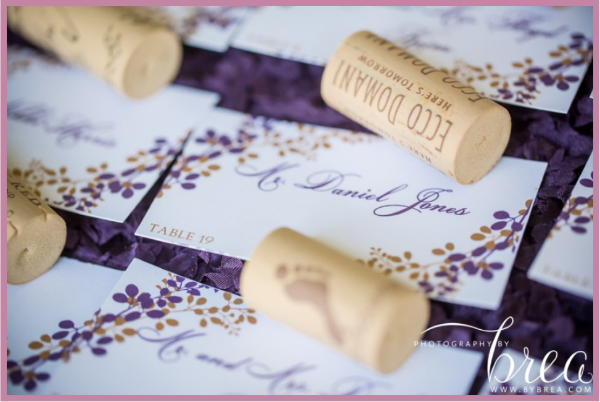 What made you decide to choose Historical London Town as your venue?
We chose London Town because of it's natural beauty. I fell in love with the venue in January when nothing was in bloom and the scenery was just the bare bones. We were interested in another venue but my heart fell in love with London Town. The beauty and serenity was the ideal classic setting for our memorable night.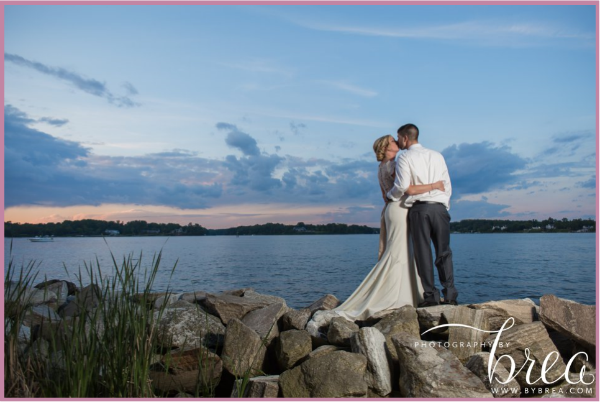 CHEF'S EXPRESSIONS WITH EVENT DESIGN CONSULTANT, JENNIFER PELLEGRINO
What is it about these clients that stood out to you the most?
Ashley & Phil are a really sweet couple! I could tell almost immediately that they were foodies. They invited both sides of their family to the tasting, so it's obvious that family is really important to them, which I find special because I am very family oriented.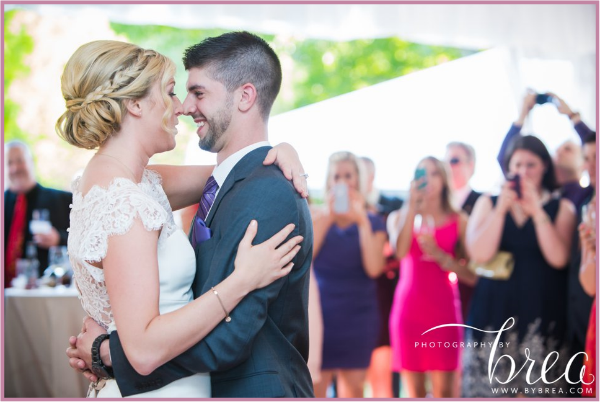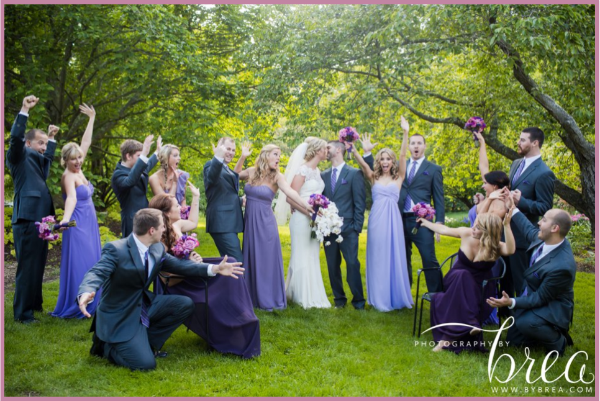 What part of the planning process was most exciting for you?
The fact that they were having a large wedding was very exciting. With close to 200 people in attendance, I find it especially exciting because their wedding will serve as the last large scale event to be held at London Town. I also really enjoyed the over-all feel of their wedding. The beautiful garden style set up on along the waterfront was absolutely gorgeous.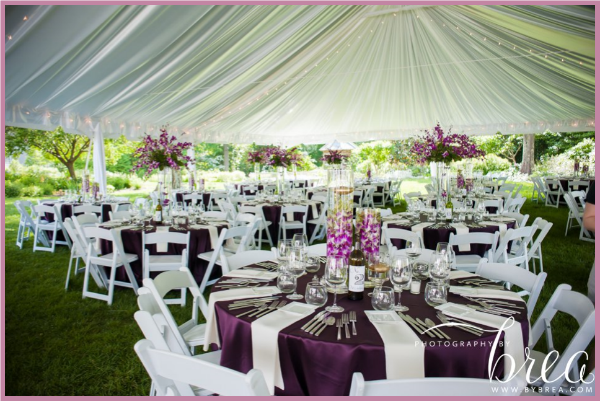 How did you design the menu?
They really wanted to add some Maryland flavor in their menu, which is perfect because it was on the water. We included the traditional Maryland favorite, Crab Cakes. They also incorporated items like the Brown Sugar & Old Bay rubbed Black Angus Loin , which added to the local feel.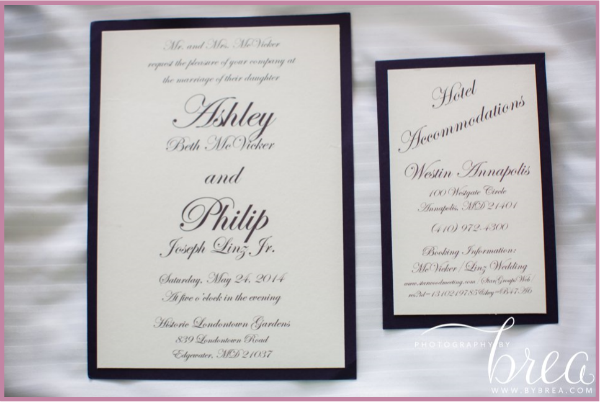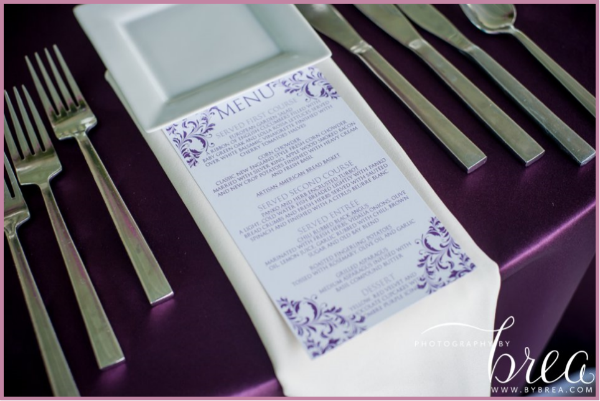 What did they have for dessert?
They decided to do an Ambre Cupcake Tier with three different flavor selections; Chocolate, Vanilla, and Red Velvet.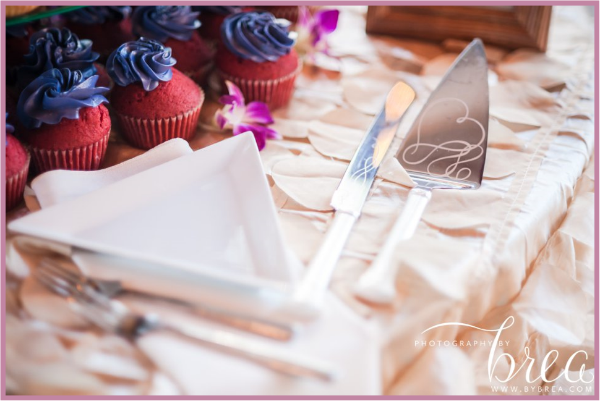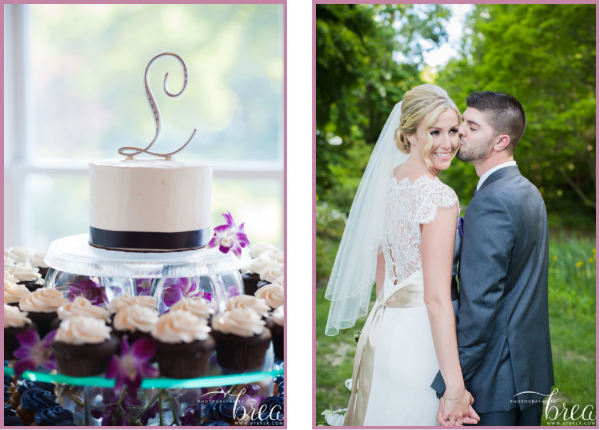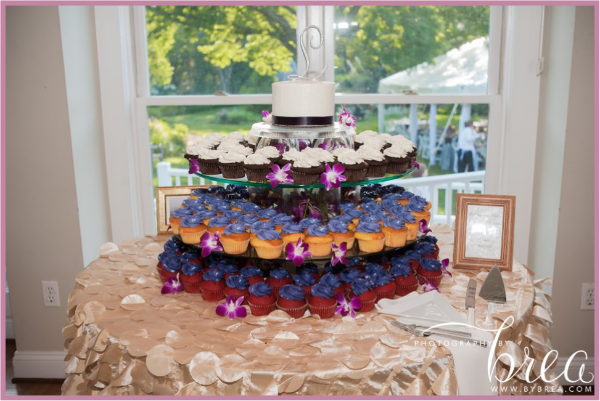 How did you incorporate your client's wishes in this event?
Their wishes were for delicious food and a flawless execution. Our team provided good services, accurate timing, and a detailed layout to make sure that the flow of her day went the way that she envisioned. She, Phil and their families were able to sit back and enjoy their day without having to worry about anything.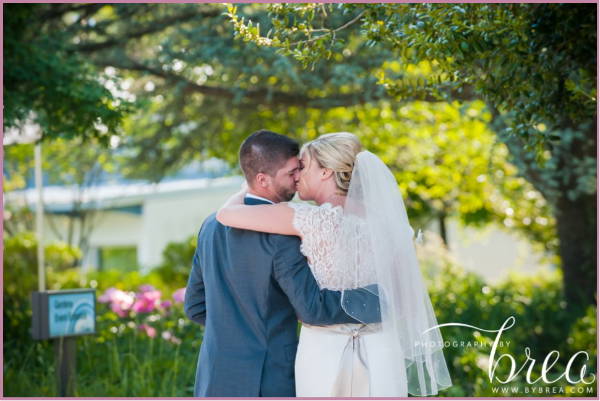 VENDOR CREDITS
Photography: Breanna Shaw, Photography by Brea
Florist: Sheila Smith, Wedding & Event Floral Design
Invitations: Erin Skinner, Invitations By Erin
Entertainment: Sal Filippelli, Event Pro DJ's
Event Design: Intrigue Designs