ASK THE WINEMAKER: PETER STOLPMAN OF STOLPMAN VINEYARDS
Posted on: Thursday, October 10rd, 2013

Peter Stolpman of Stolpman Vineyards will be hosting our exclusive Down on the Farm Winemaker's Supper on Thursday, October, 17th, 2013. We recently had the amazing opportunity to talk with Peter to learn more about the day to day life of a Winemaker and discuss his take on the wine world.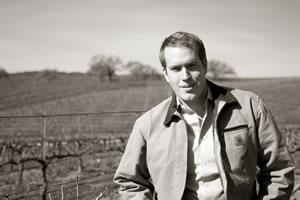 Leading with youthful passion & dedication, Peter is a partner of Stolpman Vineyards, with his parents, Tom & Marilyn. He manages the day to day happenings, all wholesale markets & coordinates Sashi, Ruben & the Tasting Room, inspiring the pursuit of extraordinary vineyard crafted wines. Peter spends most of his time traveling – introducing the world to Stolpman wines. Read more about Peter here.
What's your favorite food to pair with wine? Because about 2/3 of our vineyards are planted to Syrah, I love pairing these wines with the traditional fare of the Northern Rhone. When I visited in 2012, the only two protein options for dinner were duck and lamb and I think these flavorful meats go well with complex, dynamic Syrah. With our Roussanne white wine, I love raw fish and even spicy Indian cuisine.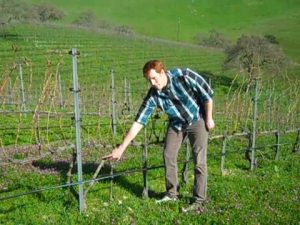 What is your general winemaking philosophy? Hands off! We farm organically and therefore have a healthy yeast population ride into the winery on the grapes. We don't have to inoculate with special yeast, and allow everything to ferment and mature naturally. We don't add anything to the wines and don't use filters. We don't even use cleaning agents in the winery, opting for hot water!
What new winemakers are you most excited about, and why? There is a young breed of winemakers all over the world pushing the limits of viticulture and winemaking. Often, these winemakers have returned to tradition, often abandoning modern techniques that rely on technological manipulation. Instead, these artisans focus on detailed work in their vineyards. In Cote Rotie, Stefan Ogier comes to mind, and in Santa Rita Hills, Rajat Parr has acted as a mentor for us.
How do you spend your days off? Hiking the coastal range with my new wife Jessica and black Labrador Baron Von Stolpman. Going to the beach and if the waves are big, surfing. We love to cook and enjoy dinners with friends at home.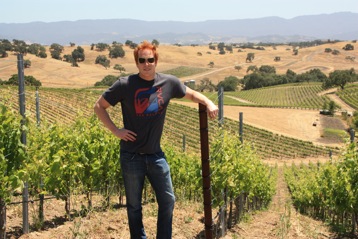 What's the best wine you've ever tasted? The most interesting? Right now, the best wine I've ever tasted is the 1998 JL Chave Hermitage Blanc. I deemed it "the dragon" that we chase as far as the pinnacle of Rhone white wines. If a 15 year old bottle of Stolpman l'Avion will ever reach that height, I will be a happy man. Sashi popped a magnum of the wine at a small engagement party he threw for us. The color was deep gold and the wine was so rich and layered I can't even begin to speak about individual flavors.
What would people be surprised to know about you? Until I was 23, I didn't want to work for the vineyard full time, I assumed I'd take over for my dad part-time once he was ready to retire. Once I moved back to California after graduating from Georgetown, I started spending more time in the vineyard and winery and fell in love with the art.
If you weren't making wine for a living, what would you be doing? Good question! Hopefully something creative. I love "making" a product that can be enjoyed.
How would you define success as a wine maker? Making wine that collectors and connoisseurs around the world recognize as uniquely delicious. Making wines that people seek out to treasure in their cellars and save for special occasions.
Chef's Expressions would like to thank Peter Stolpman for his involvement in our upcoming Down on the Farm Winemaker's Supper. To find out more about Peter Stolpman and how you can become a member of Stolpman's Wine Club, please visit their official website.