CHEF'S EXPRESSIONS TEAMS UP WITH YOUNG CHEFS FOR A GREAT CAUSE
Posted on: Friday, April 4th, 2015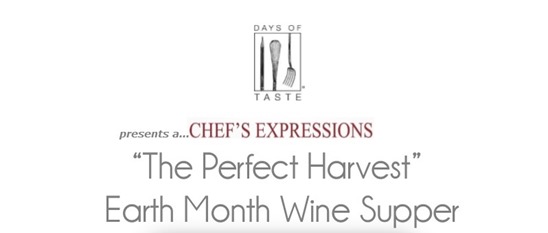 Behind every Chef's Expressions Wine Supper, there lies a team of people who play a major role in the efforts to execute a seamless experience for our guests. The star players nonetheless, would be the talented Chefs' who are busy working their magic behind the scenes. For The Perfect Harvest Wine Supper to benefit Days of Taste, our professional culinary team took five young up and coming chefs under their wing.
On Thursday, April 16th's 2015, our kitchen opened it's doors to a young group of aspiring chefs from Maryland's Job Corps Center. Supervised by Jim McKnight, Head Chef of the Advanced Culinary Arts Program, the young chefs in the making were ready and eager to step into the real-life production of a Chef's Expressions Wine Supper. Executive Chef, Will Jones took the time to explain the flow on a normal hustle and bustle day of food preparation and what was to be expected on the big day of the actual event.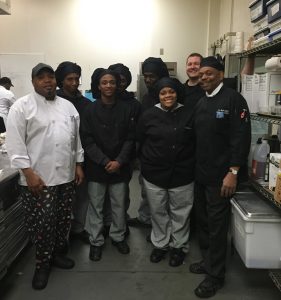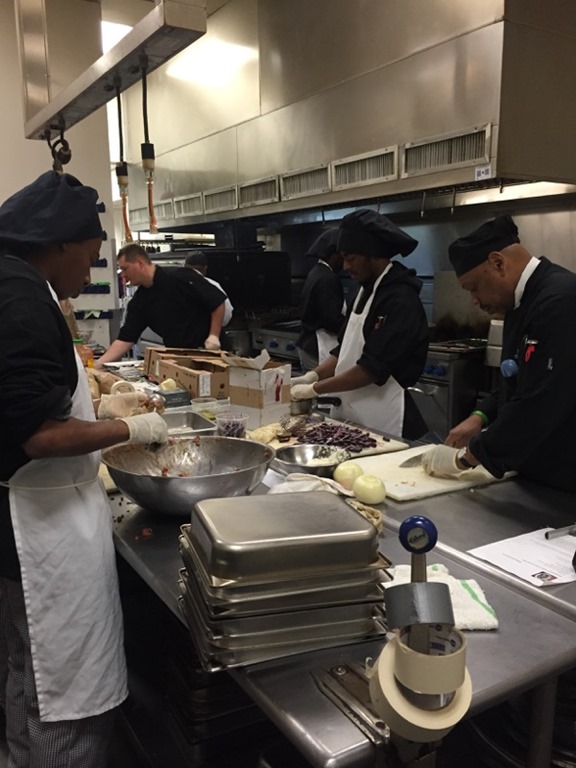 ABOUT JOB CORPS: The program is no-cost education and career training program offered by the U.S. Department of Labor. The mission of the program is to help young people improve the quality of their lives through career, technical and academic training.
EVENT DAY:
On Friday April 17th, 2015 at 6:30pm, nearly 100 guests gathered at the beautiful Gramercy Mansion for the Perfect Harvest – Earth Month Wine Supper to benefit Days of Taste. With the sure signs of Spring blooming about the 45 acre property, this culinary ode to Mother Nature couldn't have taken place at a more perfect location. The inside of Gramercy' beautiful atrium is surrounded with a variety of large gorgeous plants, giving you the true feeling of the season.
Guests took their seats and enjoyed an amazing 5 course dinner over a menu that consisted of all local ingredients and naturally sustainable wines. During the dinner, Jerry spoke about where all of the products originated from and encouraged the importance of supporting our local producers. The event also included a verbal presentation from the benefiting charity of the evening, Days of Taste.
Days of Taste is a discovery-based program which introduces elementary school children to the basic elements of taste and teaches them how food travels from farm to table. The program brings together chefs, farmers and volunteers in the community with kids to encourage them to appreciate and enjoy the taste and benefits of fresh food. …learn more
Thank you to our Partners
Chef's Expressions would like to say thank you to everyone who was involved in making The Perfect Harvest – Earth Month Wine Supper such an amazing success and for showing their support for Days of Taste.
Gramercy Mansion . Belecara . The Umbrella Syndicate . Downtown Diane . Absolute Entertainment . Job Corps Program . Bonneau Caprece .  Spirits of Mt. Vernon