IN THE COMMUNITY: DAYS OF TASTE WITH CHEF'S EXPRESSIONS
Posted on: Wednesday, June 6th, 2013
At Chef's Expressions, we consider Philanthropy to be one our team's Four Pillars Of Success. Through programs such as Days of Taste, we are able to contribute our time and efforts to help support our local community.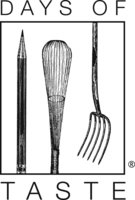 Days of Taste Program
Each year, Jerry Edwards CPCE and other members of the Chef's Expressions team venture out into the classrooms of 4th grade Baltimore students.
Days of Taste, a community outreach program that operates under the American Institute of Wine and Food, a 501(C)3 non-profit organization. Days of Taste is an interactive program that encourages elementary school students to appreciate the taste and benefits of fresh food. The program introduces children to the basic elements of taste and teaches them about food's journey from farm to table. Days of Taste brings together chefs, farmers and volunteers in the community with kids for hands-on activities both in the classroom and at local farms.
Congratulations to all these awesome kids who completed the Days of Taste Program!
Click below to find out how you can support Days of Taste