GRILLED CHEESE FOR GROWN-UP'S
Posted on: Thursday, March 3th, 2014
The Gourmet Grilled Cheese Bar
The Grilled Cheese is no longer just for the kids. Chef's Expressions puts a culinary spin on a classic comfort food favorite with the unveiling of The Gourmet Grilled Cheese Bar. This fun, flavor-filled concept makes for a great addition to any event.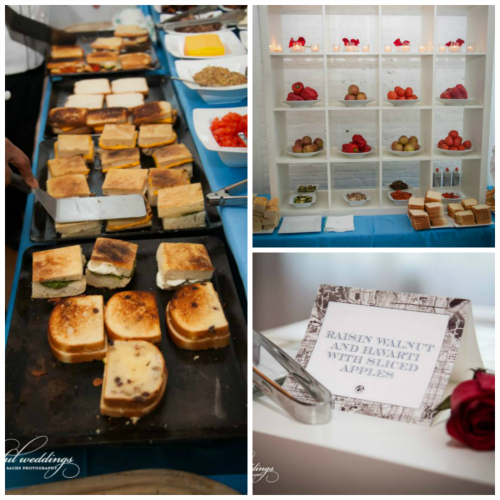 We've been having a lot of fun trying out new flavor combinations. With our wide selection of gourmet toppings, the possibilities are truly endless!
Here are a few of our highlighted favorites:
Walnut Raisin Bread & Havarti Cheese
with freshly sliced Fuji Apples
Braised Short Rib & American Cheese
Tender Ribs slowly braised in a Provencal Sauce of Veal Demi Glaze with American Cheese on Traditional Pullman Bread
Ciabatta Bread & Fresh Mozzarella
with Tomatoes & House Made Pesto Sauce
Traditional Pullman Bread and Blue Cheese
with Miso Glazed Bacon Chips
(recipe below)
Ciabatta with Chicken Confit
with Whole Grain Mustard & American Cheese
Grilled Fresh Seasonal Vegetables
on a Brioche Roll with Vermont White Cheddar Cheese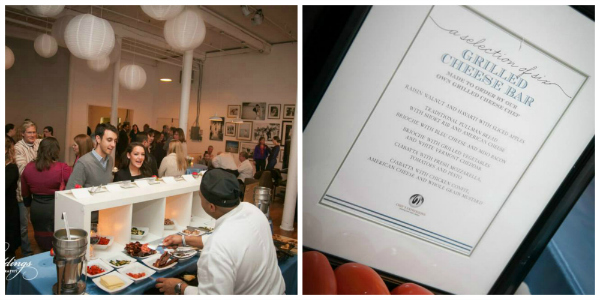 The Grilled Cheese Bar is perfect for any wedding, corporate, or social occasion. Contact us to find out how our Event Design Consultants can customize the Gourmet Grilled Cheese Bar experience for your next event!
Traditional Pullman Bread and Blue Cheese
with Miso Glazed Bacon Chips
½ lb Miso Bacon (see recipe)
8 slices Pullman Bread
4 oz Bleu Cheese, crumbled
Butter, softened – as needed
Bacon in Miso Syrup
Makes 8 slices
Miso Syrup:
1 cup shiro (white) miso
1/2 cup maple syrup
2 cups rice wine vinegar
1 1/2 cups mirin
1/2 lb bacon
In saucepot, cook miso, syrup, wine vinegar and mirin together. Whisk together and reduce on low heat until thick and glossy. Meanwhile, lay bacon on silpat or parchment paper overlapping and facing same direction. Lay another parchment on top and place smaller sheet pan on top (weigh down with saute pans). Bake at 375 degrees for about 11 minutes. When bacon is crispy, take out without removing weights.
Remove bacon from pan and lay on new sheet pan with parchment. Heavily glaze the bacon with the miso syrup and bake 2 to 3 minutes. Let cool and cut into even long strips.
Grilled Cheese Assembly
Makes 4 Sandwiches
Put frying pan or griddle on stove over medium heat until hot. Butter the outside of each slice of bread or the pan and put one side of bread on pan with 1 oz bleu cheese crumbles on top. Add 2 slices of Miso Bacon. Add the top slice and lower the heat and cover to help the cheese & bacon melt. Check to see if bread is brown after about 90 seconds, although more time may be needed. When bread is brown enough, flip. The second side should brown faster so be prepared to check it in less time.
Repeat until you have made all 4 sandwiches.