HOLIDAY RECIPE: STUFFED ARTICHOKES
Posted on: Tuesday, December 12rd, 2013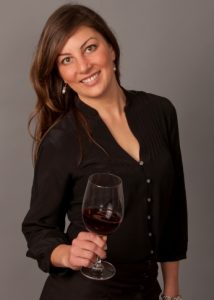 I grew up with parents that loved to entertain – whether it was a large party for the holidays or intimate dinners with friends, I've been ingrained with the hospitality gene! Because I have the opportunity to plan and execute lavish events for others, I rarely plan them for myself, but I do LOVE to throw a dinner party. The following recipe is one that has been passed down through my family's Italian heritage and, of course, I have tweaked it to make it my own. Knowing that my father's great grandmother made these for him growing up, it gives me such pleasure when he asks me to make them for him now (which happens on a regular basis); if that's not a compliment, I don't know what is!
I suggest serving these as a first course; they can be pretty filling so one per every couple is perfect. They can also be pretty messy to eat so guests should be prepared to get their hands dirty–and my recommendation would be to replace those fancy new linen napkins you bought to make your table setting beautiful with some older ones–at least for this course! Enjoy!
Stuffed Artichokes
Ingredients:
4 fresh artichokes (I prefer the globe variety, but the cone-shaped ones will work)
2 cups Italian bread crumbs
1 cup Parmesan cheese
1 Lemon, juice and zest
1 Lemon quartered
1/4 cup Italian (flat leaf) Parsley, chopped
4 cloves Garlic, smashed with the broad side of a knife
3 Eggs, beaten
1/4 cup Extra Virgin Olive Oil, plus additional for drizzling
Salt and freshly ground Black Pepper
To braise the artichokes: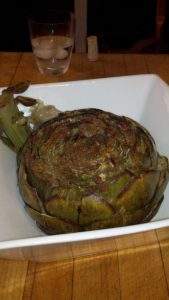 Using a sharp knife, cut one inch off of the top of each artichoke and discard the tops of the leaves. With a scissor, cut about 1/4 inch off the top of any of the lower leaves that did not get trimmed originally. Cut the stem off flush with the bottom of the artichoke and save.
Gently pull the leaves apart, until you get to the center. With a teaspoon, scrape out some of the small inner leaves to form a small cavity in the center of the artichoke.
Rinse the artichokes thoroughly and place upside down onStuffed Artichokes 2 a paper towel to dry.
In a bowl, combine the bread crumbs, cheese, lemon juice and zest, parsley, minced garlic, eggs, and 1/4 cup of olive oil. Season with salt and pepper. (The filling should be able to stick together–if it falls apart, add more olive oil, if it is too wet, add more breadcrumbs.) Try to "quarter" the filling in the bowl so you know how much you'll have for each artichoke.
Place one of the artichokes on a large plate. Starting from the outside, gently pull apart each row of leaves and stuff the filling in between the layers. Once you get to the center, fill the cavity you made with stuffing. Repeat for the remaining three artichokes.
In a large pot, place the quartered lemon, crushed garlic, and artichoke stems. Add one cup of water and place each of the artichokes in the bottom of the pot in a single layer, stuffed side up. Cover the pot and place in a 350-degree oven.
Braise the artichokes in the oven for two hours. Check every 30 minutes to make sure there is still liquid in the pot. If not, add another cup of hot water.
Check the artichokes after two hours. One of the outside leaves should pull away easily. If not, continue to cook until tender.
Once finished, use a slotted spoon to place one artichoke and one stem in a bowl. Drizzle liberally with extra virgin olive oil and sprinkle with sea salt.
Serve with an additional plate or bowl for consumed/discarded leaves and don't let your guests forget about the heart–it's the most delicious part!
Happy Holidays!
Jennifer Pellegrino, Event Design Consultant