HOSTING WITH DIETARY RESTRICTIONS
Posted on: Tuesday, March 3th, 2014
It is our goal to make guests feel special rather than singled out because of a food constraint. Our Event Design Consultants suggest these steps so you can ensure that your diet restricted guests feel included in every aspect of your celebration.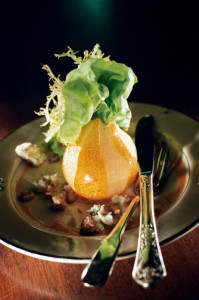 Give Advance Notice: If you're planning to host an entirely vegan event such as a wedding, we recommend letting guests know ahead of time. It is likely that a few guests will still ask for meat, but knowledgeable servers will be able to explain that it was the couple's decision to exclude meat.
Plan Ahead: We suggest that you allow for guests that may share their dietary restrictions at the last moment – always including a few extra options to accommodate those guests.
Options Are Good: Offer many alternatives, like gluten-free dinner rolls in the bread basket, or dairy-free dessert options. It is good to always have a wide variety available. We can always provide great options to meet your needs.
Expect a More Costly Plate: While we always strive to source the freshest and quality ingredients for all of our menu items, specialty items may be more costly.
Here's a menu from a client whose hosting a vegan wedding – there are so many creative ways to create delicious food for those with special dietary needs.
Whether it's catering to a gluten-free crowd or planning an entirely vegan wedding, our Event Design Consultants and highly skilled Chefs collaborate to create dishes that cater to a client's parameters. By using creativity, we are able to provide delicious food that meets our clients' dietary restrictions and exceeds their expectations.