INSPIRED RECIPE: BLUEBERRY BASIL LEMONADE
Posted on: Friday, May 5th, 2013
Chef's Expressions is known for stirring up some amazing Creative Cocktails. Try this wonderful blend of Lemon, Blueberry and Basil. Our recipe is sure to add a refreshing twist to your warm weather fun!
Blueberry Basil Lemonade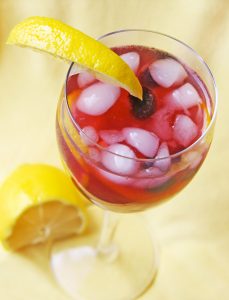 2 tbsp Blueberries
2 tsp Light Brown Sugar
12 Thai Basil or regular Basil Leaves
1 Lemon- medium size
4 ounces cold Water
In 16 ounce glass place blueberries, sugar and basil. Crush with a muddler or the handle of a wooden spoon. Squeeze the lemon and add the juice. Mix to dissolve the sugar. Add the water and ice to top. Place another glass over top and shake till blended or place in blender for a smoothie.
Now what do you do with such an amazing cocktail recipe? I'd say, you use it as an excuse for some summer fun! Make a big batch and invite a few pals over to test out the results and let us know what you think.