INSPIRED RECIPE: BUCKWHEAT CREPES WITH APPLE COMPOTE
Posted on: Friday, May 5th, 2013
If your looking for a savory new addition to your breakfast/brunch line-up, Chef's Expressions invites you to check out our recipe for Buckwheat Crepes with Apple Compote.
Buckwheat Crepes filled with Roasted Apple Compote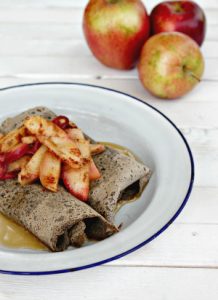 8 Tablespoons Buckwheat Flour
1 Each Egg
1 Each Egg Yolk
2 Tablespoons Unsalted Butter
1/8 Teaspoon Kosher Salt
4 Tablespoons Milk, Plus 3/4 Cup Milk
Soft Butter for Greasing Pan
4 Fuji Apple, cored and diced
2 Tablespoons Unsalted Butter, softened
1/2 Cup Brown Sugar
1/4 Cup Calvados
1/4 Teaspoon Saigon Cinnamon
2 Tablespoons unsalted Butter
Crepes – In a small bowl combine the flour, egg, egg yolk, butter (soften in order to incorporate), salt and four tablespoon of milk. Beat the mixture with a whisk until it becomes very smooth. Stir in remaining milk – the batter should be the consistency of light cream. Cover the bowl with plastic wrap and refrigerate for at least one hour. Heat crepe pan over medium heat. Test pan to make sure it is hot enough by adding a touch of butter – if the butter browns the moment it touches the pan, you are ready to go.
Remove pan from heat and add 1 teaspoon of butter into pan and swirl to cover the pan surface. Ladle about 4 ounces of batter into pan, swirl and tilt so the batter is a very thin pan, pour off excess batter. When crepe is light brown on one side flip and cook till light brown. Repeat till all the crepe batter is gone. We use wax paper to separate our crepes. Can be made a day in advance.
Apples – Heat oven to 350°, toss apples in brown sugar, cinnamon and soft butter. Roast for fifteen minutes, remove from oven and put into a stainless steel bowl let cool. To assemble; place a dollop of compote into each crepe and roll to form a cigar shape. Heat the remaining butter and calvados, flambé the calvados, add crepes and spoon sauce over the crepes. Served each crepe with sauce. For a non-brunch item – serve with ice cream.
Crepes are a delicious step away from you everyday Pancake. You could even get really creative and experiment with different fruits and flavored Compotes. We hope you enjoy this recipe!