INSPIRED RECIPE: DOWN HOME CHEDDAR BISCUITS
Posted on: Friday, May 5th, 2013
Chef's Expressions crisp and creamy homemade Cheddar Biscuits are the perfect addition to any meal!
Down Home Cheddar Biscuits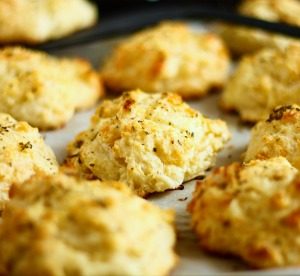 1 1/4 cups self-rising flour
3/4 cup cake flour
3/4 teaspoon baking powder
1/2 teaspoon baking soda
3 teaspoons sugar
1/2 teaspoon salt
4 tablespoons cold unsalted butter, cut into pieces
1 cup buttermilk
1/2 cup grated cheddar cheese
1/4 cup all-purpose flour
2 tablespoons melted unsalted butter
Preheat the oven to 475 degrees F.
Makes 16 small biscuits
Into a bowl, sift together the self-rising flour, cake flour, baking powder, baking soda, sugar, and salt. Using your fingers or a pastry cutter, work the butter into the flour until the mixture resembles coarse crumbs. Add the buttermilk, cheese, and, using your hands or a rubber spatula, stir just until the buttermilk and flour come together to form a dough, being careful not to over mix.
Lightly flour a work surface with the all-purpose flour. Turn out the dough onto the surface and press into a disk about 1/2-inch thick and 8 inches in diameter. Using a 3-inch round cutter dusted in flour, cut into rounds. (Be sure to press straight and downward when cutting the dough — a twisting motion will prevent the dough from rising.)
Reform the scraps in order to make 7 biscuits. Place on a small baking sheet and brush the tops with the melted butter. Bake until golden brown, 10 to 12 minutes. Remove from the oven and serve hot or at room temperature.
These biscuits are sure to be a table-topping favorite! Try this recipe out for yourself and let us know what you think.