INSPIRED RECIPE: MISO BACON
Posted on: Friday, May 5th, 2013
Possibly the most tasty bacon you'll ever eat – Sweet, Salty, Savory = Delicious!
Miso Bacon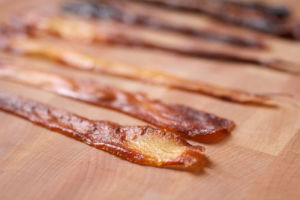 1 cup shiro (white) miso
1/2 cup maple syrup
2 cups rice wine vinegar
1 1/2 cups mirin
1/2 lb bacon
In saucepot, cook miso, syrup, wine vinegar and mirin together. Whisk together and reduce on low heat until thick and glossy.
Meanwhile, lay bacon on silpat or parchment paper overlapping and facing same direction. Lay another parchment on top and place smaller sheet pan on top (weigh down with sauté pans). Bake at 375 degrees for about 11 minutes. When bacon is crispy, take out without removing weights.
Remove bacon from pan and lay on new sheet pan with parchment. Heavily glaze the bacon with the miso syrup and bake 2 to 3 minutes. Let cool and cut into even long strips.
The classic culinary kick of blending sweet and salty flavors make this Bacon stand out on any breakfast table. Try out this tasty recipe for yourself and let Chef's Expressions know what you think!