INSPIRED RECIPE: SERRANO HAM AND MANCHEGO CHEESE ROULADE
Posted on: Friday, May 5th, 2013
Step away from the everyday scrambled egg and indulge yourself in this delightful Roulade. Chef's Expressions loves to feature these at breakfast and brunch events and always have fun trying out new fillings – explore and enjoy on your own!
Serrano Ham and Manchego Cheese Roulade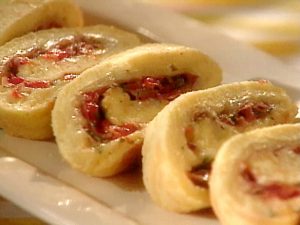 Roulade
5 tablespoons unsalted butter
6 tablespoons all-purpose flour, plus more for dusting the pan
1 1/4 cups whole milk, heated
4 large eggs, separated
1/2 teaspoon kosher salt
Freshly ground black pepper
Filling
2 cups coarsely grated Manchego
3 ounces thinly sliced Serrano ham
1 large roasted red bell pepper, seeded, peeled and cut into thin strips, optional
1/4 cup finely chopped fresh parsley leaves
Preheat the oven to 350° F. Line a buttered 15 by 10 (1-inch) jelly roll pan with parchment paper. Butter the paper, dust with flour, and tap out the excess.
Melt the butter in a small saucepan over medium-high heat. Add the flour and cook, stirring, for 3 minutes. Increase the heat to high, whisk in the milk, and bring to a boil. Reduce the heat to medium and simmer for 5 minutes. Transfer to a large bowl and whisk in the egg yolks 1 at a time. Season with the salt and pepper. Beat the egg whites until soft peaks form. Stir 1/3 of the whites into the yolk mixture and fold in the rest. Pour the batter into the bottom of the prepared pan and smooth gently with a metal spatula. Transfer to the oven and cook until golden and firm to the touch, about 15 minutes.
Increase the oven heat to 375 degrees F. Cover the egg sponge with a buttered piece of parchment paper, buttered side down. Cover with a damp kitchen towel and invert onto a work surface. Peel off the paper from the top.
Sprinkle the cheese over the sponge, leaving a 1/2-inch border on all sides. Arrange the ham and pepper strips on top and sprinkle on the parsley. Place a flat baking sheet next to the sponge. Starting with 1 of the longer sides, use the towel to help roll the sponge up jelly roll fashion. Carefully roll onto the baking sheet pan. Return the roulade to the upper third of the oven and bake until the cheese has melted, 8 to 10 minutes. Use a serrated knife to cut crosswise into 1/2-inch-thick slices.
Now it's your turn and after you get this recipe down pact, have fun trying out different fillings. There are so many more tasty combinations. Try out a few and let us know what best suits your taste-buds!