JERRY EDWARDS CPCE SPEAKS FOR U.S DEPARTMENT OF COMMERCE'S SABIT DELEGATION
Posted on: Friday, June 6th, 2014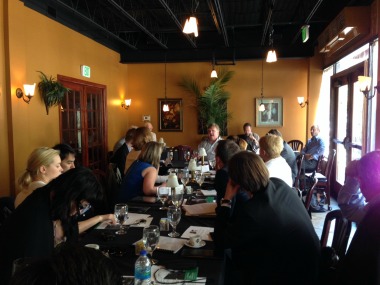 Seventeen delegates from seven Eurasian countries (Armenia, Azerbaijan, Georgia, Kazakhstan, Russia, Tajikistan, and Ukraine) ventured to the United States for a three week executive training program through the U.S. Department of Commerce's Special American Business Internship Training Program (SABIT). Our President & Corporate Chef, Jerry Edwards was more than honored to speak to the delegation, which included high-level executives and professionals from leading associations and companies in the restaurant and foodservice industry.
The delegates were interested in learning new ways to bring together hospitality professionals in an organized manner to promote standards, networking, and growth of the hospitality industry. Given Jerry's history serving on many national committee's & boards in the industry, they were interested in his perspective on the benefit of associations for the hospitality world. They were also very interested in learning the details of how the catering business worked in America, particularly Chef's Expressions, as it has twice been named National Caterer of the Year.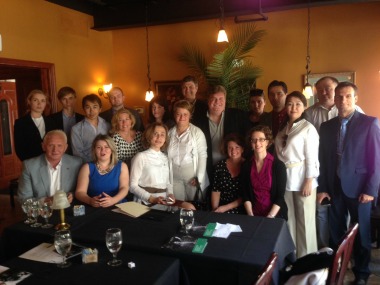 Jerry – What was the highlight of this event for you? I loved speaking through an interpreter. It was a new experience for me. You realize that their reaction to you is slightly delayed, and in my mind I'm thinking, "well, they must have not thought that joke was funny".
In all actuality, they were an awesome group of people. I really enjoyed sharing information with them and it was very interesting to learn about their style of catering in Europe. It was truly an honor to be asked by the United States Department of Commerce to speak to this group of professionals. I highly respect them for their passion and there dedication to progress & expand the hospitality industry abroad. It was definitely an experience I won't forget!