A JOURNEY THROUGH JERRY'S GARDEN
Posted on: Friday, May 5th, 2017
Here we are, in the midst of the Summer. The flowers have bloomed, temperatures have risen, but most importantly, some of the best local Summer ingredients are now in the prime-time of their season.
Jerry enjoys preparing amazing dishes using the freshest ingredients possible, so it comes as no surprise that he takes great pride in caring for his beloved backyard garden. Jerry grows a variety of delicious herbs and vegetables in his garden including Basil, Thyme, Tomato, Cucumber, Eggplant and the list goes on. The natural scenery of Verdant Valley Farm provides the perfect environment for growing delicious seasonal produce.
We've compiled Jerry's favorite seasonal items into three tantalizing dishes. The ingredients used in these recipes are the finest in our area during August and September, so get cooking!
MARYLAND CORN, CRAB AND TOMATO SALAD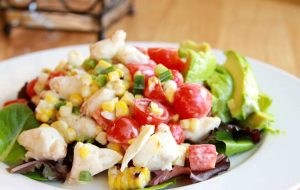 Servings: 8
4 Ounce Portion
Summer Ingredients:
16 oz. Jumbo Lump Blue Crab (picked clean of shells- careful not to break up lumps)
4 Ears Silver King Corn,
4 ounces Heirloom Tomatoes, ½" dice (Cherokee Purple, Green–Zebra or Brandywine are favorites for this recipe)
¼ Bunch Basil, Fresh, Cut into "Chiffonade" strips
Dressing:
4 fluid ounces Extra Virgin Olive Oil
1.5 fluid ounces Rice Wine Vinegar
1 Pinch Sea Salt
½ Teaspoon White Pepper
¼ oz. Sugar
Directions:
Peel Corn Husks away from corn. Rub corn with 1 ounce Olive Oil and a touch of salt. Grill corn over medium heat 5 minutes turning often. Do not allow to burn. Cool and cut from the cob into a stainless steel bowl.
Add Lumps of Crab, Cut Tomatoes and Basil.
Make Vinaigrette in a separate bowl by whisking Oil, Vinegar, Sugar and Sea Salt together.
Pour over Crab Mixture, toss gently so as to not break up the Lumps of Crab. Place in a ramekins that you set in the refrigerator for at least 2 hours so the flavors begin to meld. Turn out ramekins onto a pretty plate, garnish with fresh tomato and basil and enjoy!
EGGPLANT MEATBALLS "POLPETTI DI MELANZANE"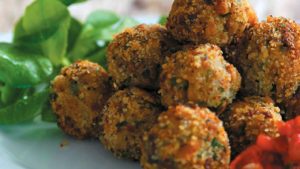 Makes 24 one ounce Polpetti (meatballs)
Ingredients:
2 tablespoons salt
1 large eggplant, to yield about 1.5 pounds of flesh when peeled and cut into quarters lengthwise
4 slices day-old bread
2 eggs
3/4 cut, Parmesan freshly grated
4 cloves garlic, finely minced
1/2 bunch Italian parsley, chopped to yield 1/4 cup
¼ bunch fresh Basil Chiffonade
1/2 cup Panko crumbs
1 cup extra-virgin olive oil, for frying
Directions:
Bring 6 quarts of water to a boil and add 2 tablespoons salt. Add the eggplants and boil 10 minutes. Dip the bread in the water and remove, squeezing to drain the water and set aside. Remove the eggplants from the water and drain well.
When the eggplants have cooled, coarsely chop them and place them in the work bowl of a food processor. Add the soaked bread and eggs and pulse to form a somewhat homogenous paste adding more egg if necessary. Add 1/2 cup pecorino, garlic, Basil and parsley and continue to pulse until a smooth yet somewhat dry mixture is formed. Do not over-process.
Turn the mixture into a mixing bowl and place bread crumbs on a large plate. Using your hands and working quickly, roll the eggplant mixture into balls with a 1/2-inch diameter and roll each ball in the bread crumbs to coat. Hold each ball on a sheet tray.
In a heavy-bottomed skillet, heat the olive oil until just smoking. Cook the eggplant balls in the oil a few at a time, for 6 to 7 minutes, until dark golden brown, turning gently with a wooden spoon to evenly brown all sides. Remove to a tray or plate lined with paper towels. Sprinkle with the remaining pecorino and serve.
CRYSTAL GREEN GAZPACHO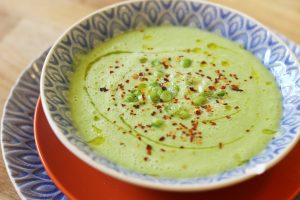 Makes 10 cups
Ingredients:
4 pounds Green Tomatoes or Sun Gold Tomatoes
1 pound Green Seedless Grapes
1 tablespoon fennel seeds toasted
2 large yellow peppers
1 Vidalia Onion
4 whole Shallots
¼ cup vegetable oil
2 teaspoons extra virgin olive oil
1 cups water
¼ cup rice vinegar
1 teaspoon Crystal hot sauce
1.5 English Cucumbers
1/4 bunch fresh basil
5 tablespoons Crème Fraiche
2 ounces sugar- if needed
Directions:
Peel and seed Cucumber, halved lengthwise, finely chopped (about 2 cups).
Slice Shallots and blanch in Rice Vinegar for 5 minutes. Drain and remove Shallots keeping Vinegar for later use.
Preheat oven to 450°F. Place Cut Onion and Pepper into 1-inch pieces and place on a rimmed baking sheet with the fennel seeds. Drizzle 1/4 cup oil over vegetables, tossing to coat. Sprinkle with salt. Roast vegetables until soft and slightly charred, about 30 minutes.
Puree half of roasted vegetables, all the green grapes and half of the Tomatoes (fresh) with pan juices in processor until smooth. Add 1 cup water; process until very smooth. Transfer mixture to large container and cool.
Mix vinegar, sugar and hot pepper sauce together.
Finely dice remaining tomatoes, roasted yellow peppers and onions; mix with diced cucumber. Combine puree and diced vegetables with hot sauce and vinegar mixture.
Add Vinegar Mixture to puree and the drizzle in extra virgin olive adjust Salt and Pepper to taste. Then adjust sweet, hot and sour level. It should be balanced.
Chiffonade basil and add a the last minute to your taste.
Serve Chilled with a dollop (1/2 tablespoon) of Crème Fraiche.
Happy eating!