LET'S TOAST TO DAY 10 OF HOLIDAY CHEERS!
Posted on: Wednesday, November 11st, 2012
Holiday Cocktail Inspiration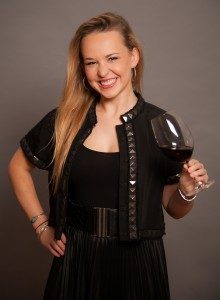 Blair Hanemayer – Assistant to the President
I absolutely love everything about the holidays! It's so festive and I love that everyone comes together to celebrate and enjoy each other's company. One of my favorite parts are the holiday parties. As one who loves to entertain, I hate to turn up to a party empty handed, which can be quite the struggle when life feels like a juggling act. But I have found the best solution … cocktails. When the clock is ticking down to a party it is so easy to grab ingredients from my stock pile throw 'em together, shake it up, and show up with a smile. Below is one of my favorite holiday recipes for homemade eggnog. It takes a little time but is such a great treat and a million times better than the store bought stuff. It's also something that not many people make on their own and is a real treat and gift within itself. This recipe is great because all you need is a blender and no cook time, but if you are worried about raw eggs a more traditional recipe may be the way to go. Ladies hint: Make this before you get ready for the party to let it chill and taste test while you get ready!
Homemade Eggnog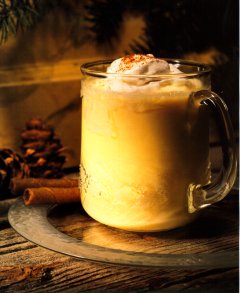 Time: 5 minutes, plus 1 hour to chill
4 large Eggs
3/4 cup Granulated Sugar, or to taste
1/2 teaspoon Freshly Grated Nutmeg, more for sprinkling
1/2 teaspoon Cinnamon
1 teaspoon Vanilla Extract
4 ounces Brandy
4 ounces Bourbon
12 ounces 2% Milk
8 ounces Heavy Cream
Crack eggs into blender and process for one minute on medium speed. Slowly add sugar and blend for one more minute. With blender running, add remaining ingredients until combined. Refrigerate for at least one hour (up to overnight). Serve in chilled glasses, dusting nutmeg on top. If multiplying recipe, use a stand mixer. Yield: 6 to 8 drinks.
Holiday Dessert Inspiration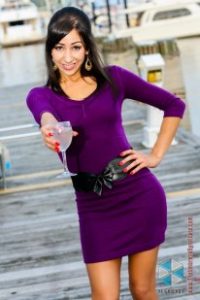 Anna McCoy – Event Specialist
There are two things that I enjoy most about the holiday season – family and food! I love the feeling of togetherness with the ones I care for most. What I also love is the fact that this is the one time of year when I am liberated to eat whatever I please and be completely guilt-free while doing so! From creamy cheesecakes, to decadent pies, to mouthwatering cookies, it's hard not to seize the opportunity to indulge on some of these holiday favorites. My ultimate favorite desert of all time would have to be Bourbon Pumpkin Cheesecake. After hard strenuous research, I finally found the perfect Bourbon Pumpkin Cheesecake recipe.
Bourbon Pumpkin Cheesecake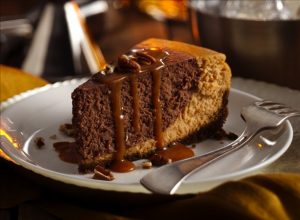 1 1/2 cups vanilla wafers, crushed into crumbs
1 cup ground pecan pieces
1 stick melted butter
2 pounds cream cheese, softened and cubed
1 cup light brown sugar
6 eggs
1/2 cup heavy cream
1/2 cup all-purpose flour
Pinch salt
1/2 teaspoon cinnamon
1 teaspoon vanilla
2 cups pumpkin puree
2 cups sweetened whipped cream
Dash bourbon
1 cup semisweet chocolate sauce, warm, recipe follows
Preheat the oven to 350 degrees F. Combine the crumbs, ground pecans and the butter together. Mix well and press into a 12-inch spring-form pan. In a food processor, with the metal blade, mix the cream cheese until smooth. Add the brown sugar and blend. Add the eggs 1 at a time to thoroughly incorporate into the cheese mixture. Add the heavy cream.
Add the flour, salt, cinnamon and vanilla and blend until smooth. Add the mashed pumpkin and blend until smooth. Pour intothe prepared pan. Bake for 1 hour and 15 minutes or until the cake is set. Remove from the oven and with a knife loosen the sides from the pan. This will prevent the cake from splitting down the center. Completely cool the cake before cutting. Combine the whipped cream and bourbon together, blend well. Garnish each piece of cake with the Bourbon Whipped Cream and a drizzle of chocolate sauce.
Chocolate Sauce: 3/4 cup half-and-half 1 tablespoon butter 1/2 pound semisweet chocolate chips 1/4 teaspoon pure vanilla extract
Combine the half-and-half and butter in a small heavy-bottomed saucepan over medium heat. Heat the mixture until a thin paper-like skin appears on the top. Do not boil. Add the chocolate and vanilla and stir until the chocolate melts and the mixture is smooth. Remove from the heat and let cool.
Happy Holidays!
Blair Hanemayer, Assistant to the President
Anna McCoy, Event Specialist