LET'S TOAST TO DAY 11 OF HOLIDAY CHEERS!
Posted on: Saturday, December 12nd, 2012
Here is a great recipe for a classic holiday favorite!
Ginger Snaps

22 oz butter, softened
28 oz brown sugar
3 cups molasses (30oz)
4 eggs
16 oz flour
2 tsp salt
4 tsp ginger
4 tsp cinnamon
2 tsp cloves
1 cup granulated white sugar
Preheat the oven to 350 degrees F.
In a medium mixing bowl whisk together the flour, ginger, cinnamon, clove and salt.
Place the brown sugar and butter into the bowl of a stand mixer fitted with the paddle attachment and beat on low speed until light and fluffy, 1 to 2 minutes. Add the molasses, and egg and beat on medium for 1 minute. Add the dry ingredients to the wet and stir until well combined. Chill the dough for 30 minutes in the refrigerator.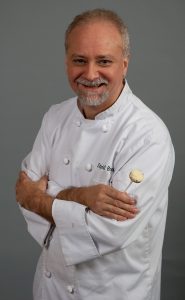 Place about 1 cup of white granulated sugar in a medium sized bowl. When the dough has chilled sufficiently, roll into 1 inch balls. Then roll the balls of dough into the sugar, coating them thoroughly. Place on the baking sheet, spacing about 2 inches apart and, with the bottom of a glass, flatten the cookies slightly. Bake for about 12 – 15 minutes or until the cookies feel dry and firm on top (the longer the cookies bake, the more crisp they will be). Cool on a wire rack.
Makes about 4 dozen cookies.
Happy Holidays!
David Brooks, Pastry Chef