LET'S TOAST TO DAY 7 OF HOLIDAY CHEERS!
Posted on: Tuesday, December 12th, 2012
Favorite Holiday Meal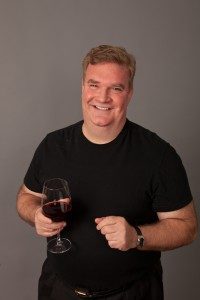 This year I am hosting Christmas Eve dinner at my home. This is my favorite dinner of the year to prepare. I come from an Italian family and due to tradition, Christmas Eve is very important.
Roman Catholic law forbad anyone eating meat on Fridays and in some families this also included Christmas Eve. But since this glorious night was for celebration, it became a feast of many fish dishes. Some families even went so far as to prepare 9 or 11 different fish dishes. I prepare seven different dishes each year. A few Shellfish and a few fin fish dishes. All with a side of vegetables that complement the dish.
Here is a great recipe for Shrimp Ribollita, which is a bread soup that is rich and rustic. Makes for a perfect Holiday dish that the family is sure to enjoy!
Italian Shrimp Ribollita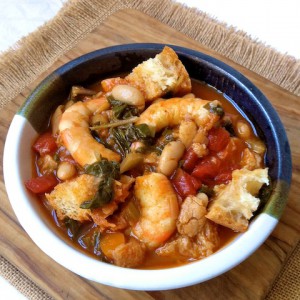 SOUP BASE
1 lb. Fresh Shrimp – peeled (reserve the shells for the broth)
4 tablespoons olive oil
1 red onion, chopped
1 leek, white part only, chopped
2 garlic cloves, chopped
4 carrots, sliced into half-inch rounds
4 zucchini, sliced into half-inch rounds
One-quarter whole Savoy cabbage, shredded and chopped
4 potatoes, peeled and cut into one-half inch cubes
1 cup green beans, cut into bite-size pieces
2 cups cooked Canellini or Tuscan Beans one-half cup pureed and ½ cup whole
2 tablespoons coarse sea salt or kosher salt
4 tablespoons tomato paste
1 pound stale Italian bread
GARLIC BROTH
4 cups cold water
Shrimp Shells
6 garlic cloves roasted in aluminum foil and olive oil for 25 minutes
In a small soup pot simmer the 6 cloves of roasted garlic and the shrimp shells in 4 cups of cold water. When the water has reduced to 1 cup (about 45 minutes) reserve for soup recipe.
Heat the olive oil in a large pot and sauté the onion and leek together over low heat until they begin to brown. Add 2 cloves of garlic and sauté for 1 minute. Add all the remaining vegetables. Season with sea salt and stir to mix in the onions and leeks evenly. Cover with water and cook for 20 minutes or until the vegetables have reduced in volume by half. Stir again and add garlic and shrimp broth to the pot. Bring to a boil and then lower the heat. Add the tomato paste and stir to dissolve. Cover and cook the soup for 1 hour. Add the Tuscan beans.
Add the bread in chunks, reboil the soup, stirring well to break up the bread. The soup should be thick enough to eat with a fork! It's served with the traditional drizzle of extra virgin olive oil and parmesan cheese on top.
Happy Holidays!
Jerry Edwards, President and Corporate Chef