MASON DIXON MASTER CHEF TOURNAMENT
Posted on: Friday, July 7th, 2013
We are excited to announce that our Executive Chef, Jake Hack is competing in the upcoming Mason Dixon Master Chef Tournament on July 23rd. His culinary expertise will be put to the test as he goes head to head with his first opponent of the competition, Chef Christian Welch of Skyloft Conference Center.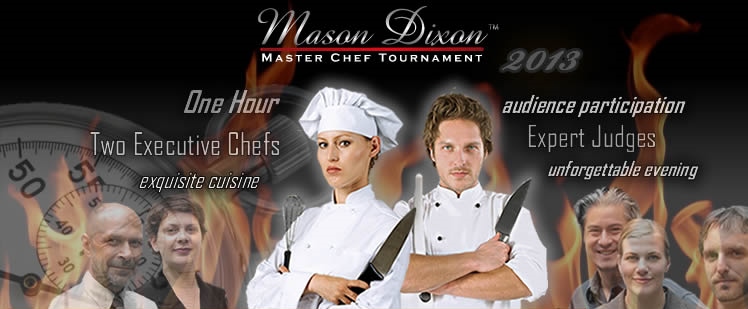 The Mason Dixon Master Chef Tournament is a unique culinary experience. This multi-week event is a single-elimination tournament designed to showcase some of the Baltimore-Washington Metropolitan and surrounding area's finest executive chefs and restaurants, while providing the audience a unique evening of entertainment. At the end of this tournament only one of the 16 chefs will emerge as THE Mason Dixon Master Chef! 10% of the net proceeds from ticket sales will go directly to local food charity Meals on Wheels of Central Maryland. The competition runs for eight non-consecutive weeks beginning June 17th. Tickets include general admission to the venue to enjoy the chef competition and a 10% donation to the Meals on Wheels charity.
Let's Hear from the Chef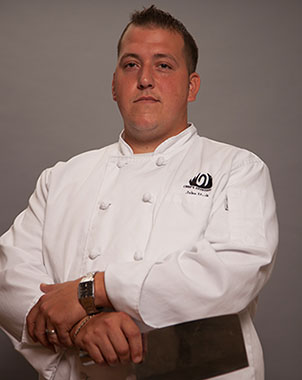 What was your first dish you cooked?
The first dish that I can remember cooking was a filet of grilled rockfish that I caught at my parents' house. I think that I marinated it in Italian dressing, wrapped it in tin foil and grilled it.
Why do you love cooking?
I think I get the most joy out of creating new dishes. I love to be able to experiment and ultimately, the possibilities are endless. It is art to me.
Anything you'd like to say to your competition?
I hope that you are prepared because I have put a lot of thought into my food. Watch out!
What are the ingredients you'll be working with?
I am using a base set of ingredients which include Wasabi Peas, Jumbo Lump Crab, Pistachios, Crushed Tomato, Olive Oil, Ginger Puree, and Tofu and rest assured that I will also be incorporating some unique items that are sure to amaze the audience. I am focused on delivering dishes that are out of the box, so this will not be your typical meal.
Who's your culinary inspiration?
I would have to say Geoffrey Zakarian for his unwavering creativity and passion for the food he creates. The man is a scientist!
If you had to choose any ingredient that you had to use in everything you cooked forever and ever, what would it be?
Rice Wine Vinegar. I think it adds a level of acidity that most foods are lacking, and it happens to be a personal favorite of mine.
You have two little boys – what is their favorite meal you make for them?
My oldest is eighteen months and likes everything. Believe it or not, his favorite food is Brussel Sprouts (roasted with sea salt) and macaroni and cheese as a close second.
My youngest is two months old. His favorite food right now is Similac Advanced and Daddy makes a pretty mean bottle!
We want everyone to purchase their tickets and come out to support Jake and Chef's Expressions, as he takes on the DMV to become The Mason Dixon Master Chef!
Good luck, Jake!