NOW A CERTIFIED GREEN CATERER!
Posted on: Wednesday, February 2th, 2013
At Chef's Expressions, we pride ourselves in supporting and maintaining a healthy environment. We realize that the smallest steps can make a BIG difference in today's world. One important effort that we've made is supporting our local farmers. This helps us to create sustainable menus for our clients. By going "green", we hope to transcend our commitment to our community, and work towards making Chef's Expressions a better environment. With that said, we are very proud to announce that Chef's Expressions is a Certified Green Caterer!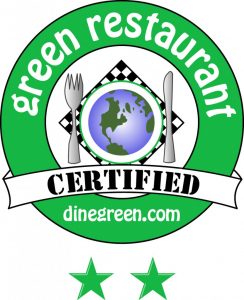 "It takes a lot of effort to become a green company, but in the end it is worth it! We want to help sustainability to become second nature to everybody." Executive Chef Jake Hack
Chef's Expressions took numerous steps to help improve our sustainability in catering operations. Some of these steps include:
-Full Scale Recycling & Composting Program with Waste Neutral
-Reusable Napkins and Biobased Disposables are now available for our clients!
-Maintaining and developing relationships with local farmers
-Reducing dumpster size by over 50%
-Personal recycling bins in everybody's office (often used for the occasional paper basketball game)
-Recycling cooking oil with Planet Fry
"For me, it is important that we use local, sustainable ingredients, which is why we support our local farms. Being a company located in the northeast, it is a little difficult, because we need to focus on our seasonal ingredients as opposed to the ingredients that are shipped from all over the globe." – Jerry Edwards CPCE, President and Corporate Chef
We are proud to be Green Restaurant Certified and continue to be aware of how we can maintain a sustainable and earth friendly business!