RECIPE INSPIRATION: FRESH HOUSE MADE CORN CHOWDER
Posted on: Friday, May 5nd, 2014
This hearty, yet delicious recipe makes for the perfect Spring dish. Our House Made Corn Chowder is just one of the feature menu items we will be serving at our up-coming B-More Social After-Party with the Young Defenders at Maryland Historical Society on Thursday, May 15th, 2014! Be sure to join us and enjoy the full Spring themed party menu!
Fresh House Made Corn Chowder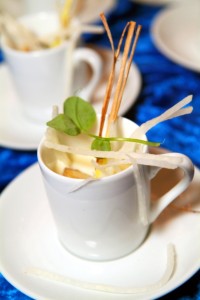 Makes 4-6 Servings
Food – Soup in Demitasse – compressedIngredients
1 tbsp. all-purpose Flour
1 tbsp. butter
1 c. Heavy Cream
4 c. or (1) 32 oz. box Chicken Broth
3 slices of Applewood Smoked Bacon, cooked until crisp and diced
½ c. medium-sharp cheddar cheese, grated
3 russet potatoes, rinsed, peeled (optional) and cubed into 1″ chunks
2 c. fresh Silver King Corn
½ of a Yellow Onion, diced
1 leek, rinsed well and diced
1 clove Garlic, minced
1 tsp. Sea Salt + a pinch for sweating
½ tsp. freshly ground Black Pepper
¹⁄₈ – ¼ tsp. Cayenne Pepper, depending on personal taste
Set a large stock pot or dutch oven over medium-low heat. Add Butter and melt. When butter has melted add Onion and Leek. Add a pinch of Salt to help the Onion and Leek sweat and cook for 4-5 minutes until tender and transparent. Add Garlic and Corn and cook for 3 more minutes.
Sprinkle in Flour and whisk. Slowly add Chicken Broth and then Cream. Turn heat up to medium-high, then add Potatoes. Season with Salt, Pepper and Cayenne. Simmer for 30 minutes or until Potatoes are tender.
Once the Potatoes are tender and the soup has thickened, turn heat off. Add in Cheddar Cheese and stir until incorporated. Spoon into individual bowls and top with crisp Bacon pieces. Serve immediately.