THANKSGIVING RECIPES
Posted on: Tuesday, November 11th, 2013
With Thanksgiving less than three weeks away, it's time to start gathering recipes that will wow your guests. Here's a look at our holiday menu this year:
Celery Root and Fuji Apple Puree (serves four)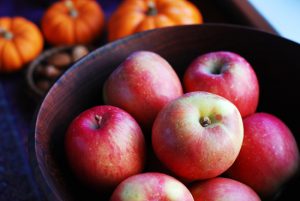 image via Sortachef
16 ounces celery root, peeled and diced
16 ounces parsnips, peeled and diced
16 ounces Fuji apples, peeled and diced
12 ounces butter
8 tablespoons of heavy cream
Boil diced celery root in salted water until tender, add diced Fuji apples for a minute to cook. Remove from liquid. Add butter and heavy cream then mash with potato masher until smooth. Season with salt and pepper.
Fresh Cranberry Orange Compote infused with Gran Marnier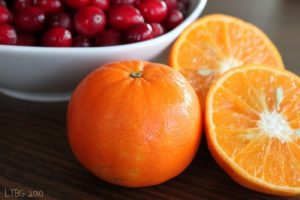 image via Lick The Bowl Good
3/4 cup water
3/4 cup sugar
1 large navel orange, zest and segments
1 shallot medium size
1/4 cup fresh cranberries
1 tablespoon Gran Marnier or other orange-flavored liqeur
1/2 teaspoon Australian candied sugar
2 tablespoons of fresh basil chiffonade
Bring water and sugar to a boil in a 2-quart heavy saucepan over moderate heat, stirring until sugar is dissolved. Add orange zest and ginger. Gently simmer over moderately low heat, uncovered, and stir occasionally until peel begins to turn translucent and syrup is reduced to about 2/3 cup, 25 to 35 minutes. Transfer to a heatproof bowl; stir in cranberries, orange segments, and Gran Marnier and chill. Once cool, add basil and serve.
Turkey Roulade with fresh Brioche, Chestnut, and Winter Parmesan Stuffing with Sage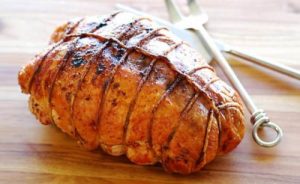 image via D'Artagnan
4 tablespoons grapeseed oil
2 tablespoons unsalted butter
6 ounces fresh roasted chestnuts, coarsely chopped
1 cup shredded parmesan
1/2 cup finely chopped onion
1/4 cup chopped fresh Italian parsley
1 tablespoon chopped fresh rosemary
1/2 teaspoon fennel seeds, crushed
1 tablespoon chiffonade of fresh sage
2 cups fresh brioche bread, small dice
1-2 3/4-pound turkey breast half with skin, boned but skin left intact, double butter flied
Heat 2 tablespoons of grapeseed oil and 1 tablespoon of butter in a skillet and saute onion and fennel seeds till translucent. Add chopped chestnut, cook till chestnuts are soft, about 2 minutes. Remove from heat. Stir in parsley, rosemary, and sage. Mix in parmesan cheese and brioche; season stuffing to taste with salt and pepper. Cool stuffing completely.
Cover opened turkey breast with waxed paper. Using rolling pin, pound to 1/4-inch-thick rectangle (about 14×10 inches). Remove waxed paper. Sprinkle turkey with salt and pepper. Spread stuffing over, leaving 1-inch plain border. Starting at one long side, roll up turkey jelly-roll style. Tie roll with butcher's twine. Tie roll once lengthwise to secure ends. (Can be made one day ahead. Cover and chill.)
Preheat oven to 375°F. Heat remaining 2 tablespoons oil in heavy large ovenproof skillet or heavy roasting pan over medium-high heat. Brown turkey roll on all sides, turning often, about 12 minutes. Brush with 1 teaspoon butter. Cover skillet with foil. Roast turkey 30 minutes. Remove foil. Roast until turkey is brown and thermometer inserted into center registers 165°F, basting with more butter occasionally, about 15 minutes longer. Transfer turkey to platter; tent loosely with foil.
Remove strings from turkey. Cut roast crosswise into 1/2-inch-thick slices.