WITH LIBERTY AND MACAROONS FOR ALL!
Posted on: Thursday, July 7nd, 2015
A little fact to kick off your holiday weekend – inspired by Independence Day and our up-coming Bastille Day Wine Supper…
Did you know that our lovely Statue of Liberty was gifted to us by France? Well, it's true! France gave us the statue in celebration of the lasting friendship between the two nations in 1886. The copper and steal statue was meant to be given in time for the centennial of the Declaration of Independence, which is why the date of July 4, 1776 can be found engraved on the tablet held in her left hand.
In honor of one of the world's most recognizable landmarks, how about infusing your 4th of July with this delicious recipe for French macaroons?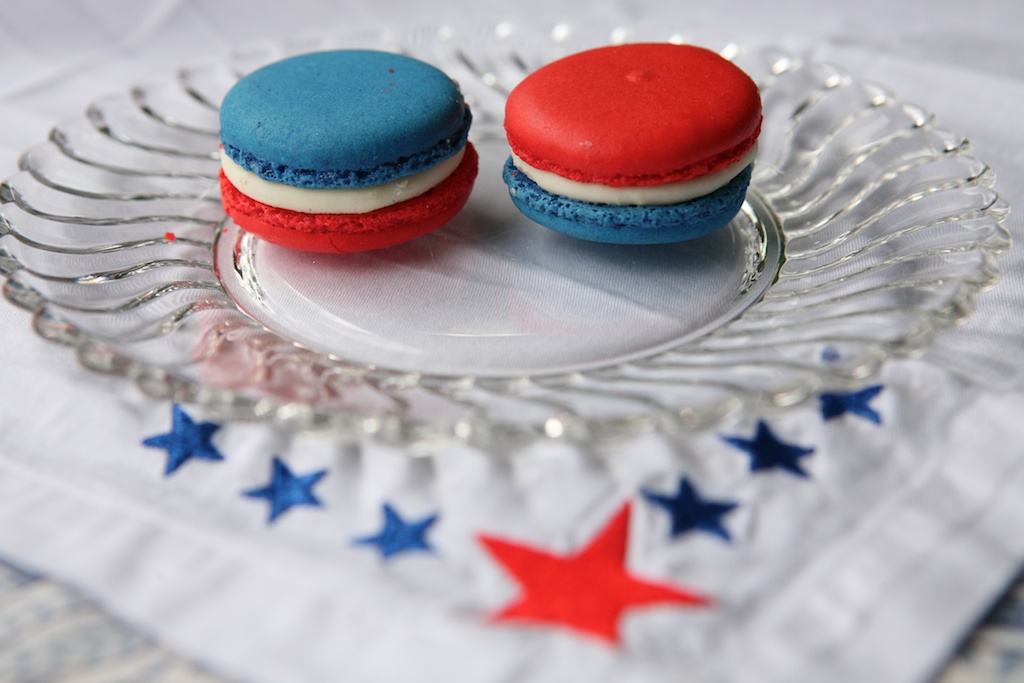 Easy French Macaron Recipe
Ingredients:
4 large egg whites (or 5 small)
1/3 cup caster sugar
1 1/2 cups icing sugar
1 cup almond meal
Tiny pinch of salt
Gel food colouring
Directions:
Preheat oven to 320 degrees. Place egg whites and cater sugar in a bowl and mix with electric mixer for 8-10 minutes or until stiff enough to turn the bowl upside down without it falling out, continue to whip for 1-2 more minutes. The length of time it takes will depend on your mixer. Add gel or powdered food colouring and continue to mix for 30 more seconds.
Sift the almond meal and icing sugar and salt twice, discarding any almond lumps that are too big to pass through the sieve. Fold into the egg white mixture. It should take roughly 30-50 folds using a rubber spatula. The mixture should be smooth and a very viscous, not runny. Over-mix and your macarons will be flat and have no foot, under mix and they will not be smooth on top.
Pipe onto trays lined with baking paper, rap trays on the bench firmly (this prevents cracking) and then bake in the oven for 20 minutes. Check if one comes off the tray fairly cleanly, if not bake for a little longer (make sure you are using NON-stick baking paper or they will stick).
Macaron Filling
Macaron's can be filled with jam and cream, buttercream, or enjoyed plain, but if you're looking for a little more something try this ganache recipe.
Ingredients:
100g (3.53 ounces) chocolate
30ml cream
Directions:
Bring the cream to the boil and pour over the chocolate. Let stand for a minute and then stir. If it is not adequately melted then microwave for 20 seconds and stir – repeat until smooth. Allow to cool and thicken before piping onto macarons.
After your macarons are piped and ready to go, mix and match the tops and bottoms for red, white, and blue tasty treats! I guess we have more than just the Statue of Liberty to thank France for. Happy Independence Day!
Be sure to join us on July 14th 2015 at Gramercy Mansion for our Bastille Day Wine Supper! Click here to see the menu and make reservations online.